Glimpse into the future: Future park site hosts yoga class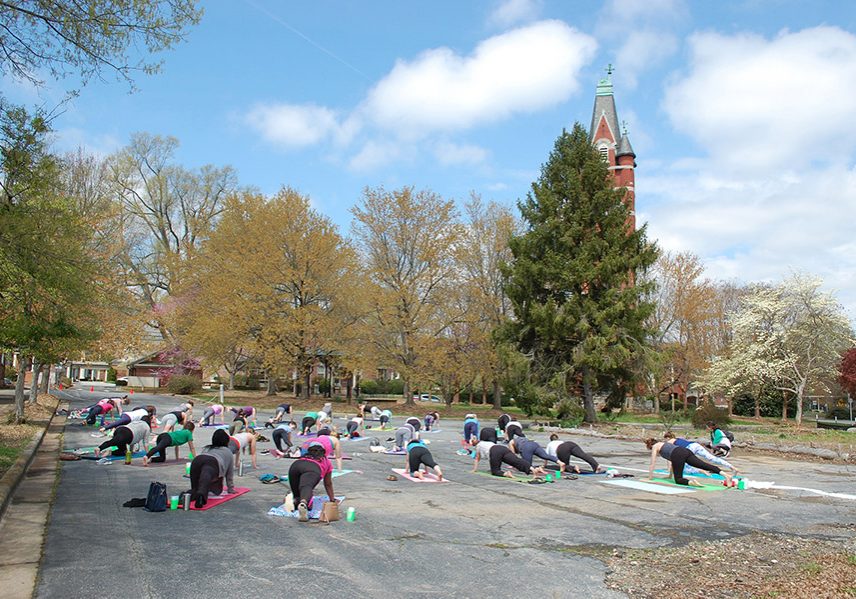 SALISBURY — Rolled out mats and yogis scattered the parking lot of the future site of Bell Tower Green on Saturday afternoon.
Led by Meredith Abramson, a yoga instructor and a member of the Bell Tower Green board, dozens gathered for downward dog and tree poses on the asphalt. Attendees visualized the completed park, set to begin construction in the coming months.
"This event was important to us because people could come to the site of our park to do yoga, but also feel like they were a part of Salisbury's biggest project at the moment: the Bell Tower Green," Abramson said. "That connectivity was an important element of our planning of this event."
Throughout the yoga practice, Abramson instructed participants while giving them a glimpse of where the park's features will be.
"Part of yoga is visualizing and anchoring, and I know what that plan looks like," she said. "I can close my eyes and see every room in our park to be, but when we decided to do this, I wanted to share that vision."
Ahead and after the yoga practice, attendees could stop at booths to get samples of cold-pressed juices from Juice Life, meet the park's designers with LandDesign and meet other yoga instructors from SoFul Yoga and Wellness of Salisbury. Bell Tower Green also had a booth for registration, information and to collect donations for the park's fundraising.
Jeff Mis, senior designer at LandDesign, said it's important to be a part of the Salisbury community and show off what's to come at Bell Tower Green.
"We have been involved in this so long that you can't take your hat out of it, but when you start talking to people who don't understand the orientation of everything, it's kind of exciting to say, 'Oh, it's going to be right here and it's going to be amazing,' " Mis said.
Allison Merriman, senior associate studio leader at LandDesign, said she is a yoga instructor and had more than a professional interest in the event. Participating allowed them to answer questions that aren't apparent of the site map.
The two designers were able to share more information about what kind of activities will be at the park, including the play area and the water feature.
Abramson said Yoga on the Green was a way to thank the Salisbury community for its generosity.
"I thought it would be a good opportunity to let the community and the neighbors know what's getting ready to happen here, because the fundraising team has been working really hard and the people of Salisbury have been so generous," she said.
To see the plan of the Bell Tower Green, visit belltowergreen.com.
This article was originally published at: